RADAR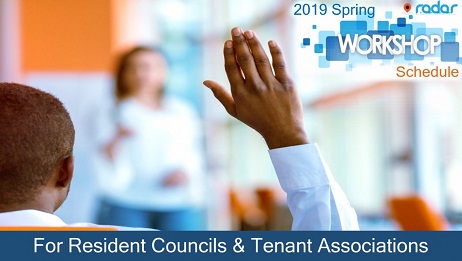 Realistic Approaches To Developing Active Residents (RADAR)
R.A.D.A.R. training is a structured, research-based, hands-on training program designed to equip Resident Councils with the necessary skills required to represent the interest of their respective community. In general, the program encompasses the role of the resident councils effective meetings, budgeting and fundraising, community safety, and a review of HUD Resident Council Regulation requirements.
Training sessions are presented using various training formats (depending on the specific requests of the client) and include mock situations where skills learned are practiced in a controlled environment, with constructive feedback. Each council receives a workbook which reinforces the content discussed during the training. Follow-up sessions are structured to support the needs of the resident council based on data received and analyzed from the previous training.
---
---
Training Objectives:
Understand the role of Resident Council and Tenant Association and establish an effective board based on statutory guidelines (local and federal)

Establish a working partnership with the Housing Authority and or Managing Developer's

Establish business partnerships with organizations that can support the efforts of the respective Councils and Associations;

Conduct effective meetings with evidence of understanding parliamentary procedures and taking important and immediate action

Understand and manage financial matters surrounding the operations of a resident council/tenant association

Manage a resident council/tenant association economic & community development business affairs

Implement the community action plan that best meets the needs of the respective Council / Association
---
Grow Capacity:
---
Our Success:
See what resident leaders and professional staff have to say about R.A.D.A.R.
---
---
Contact:
RADAR Training Team (radar@canilive.org) 202.996.0880