Housing Opportunity Legal Defense (HOLD) Fund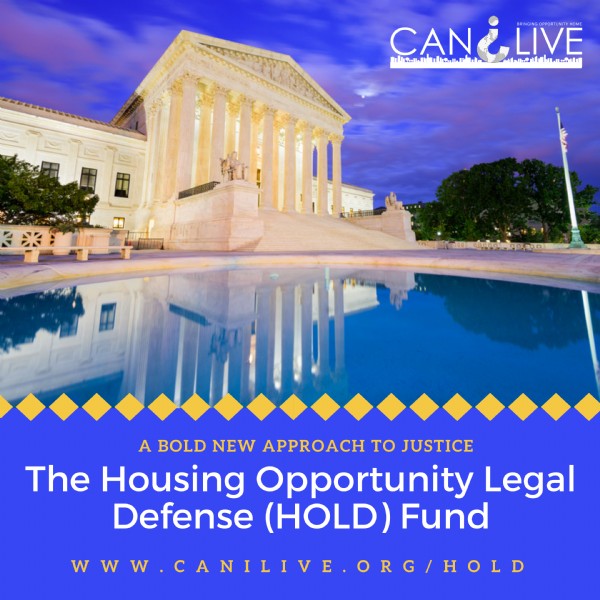 The Housing Opportunity Legal Defense (HOLD) Fund is a bold new approach and division within Can I Live family established to combat the consistent patterns of practices surrounding housing injustice here in the United States. Through advocacy, education, and litigation, HOLD seeks policy reform and long-term impact to expand Justice, eliminate disparities, and achieve economic inclusion for public housing and section 8 program participants. HOLD defends the rights of HUD-assisted families and works to protect their rights as it pertains to fair housing, relocation, economic opportunities(Section 3), and homeownership rights.
Housing Discrimination
The Federal government, Department of Housing and Urban Development (HUD) formerly knows as the Federal Housing Administration (FHA) has been explicit in creating and maintaining racially segregated communities. Forced to live in public housing (poor slums), innocent African American families faced economic exclusion and extremely limited access to mainstream private opportunities such as homeownership. HOLD rectifies years of blatant racial discrimination and economic injustice.
Economic Opportunities (Section 3)
Established by the Kerner Commission in 1968 to bring an end to the civil unrest and race riots, President Lyndon B. Johnson signed an executive order creating the National Advisory Commission on Civil Disorders. The group was to investigate the causes behind some of the worst racial and civil riots plaguing the nation cities. Blacks were frustrated with the lack of economic opportunities in the separate and unequal two cast (white/black) societies the federal, state, and local governments had created. The report brought forth many recommendations that President Johnson rejected. However, following the death of Dr. Martin Luther King, Jr, more riots broke out and this caused the commission's recommendations to ultimately be adopted. The Economic Opportunities for Low-Income People became a provision of the HUD Act (12 U.S.C. 1701u-Section3). It stated that to the greatest extent feasible, where ever certain HUD money was spent– training, employment, and contracting opportunities shall be afforded to residents particularly those who received housing subsidies.

---
Rental Assistance Demonstration (RAD)
HUD's new RAD program allows public housing authorities (PHA) to take debt against their equity. Prior to RAD, it was against the law for federal entities to have debt. Now with RAD, public housing authorities can partner with private developers to create mixed-use "affordable" housing. These new deals change the ownership structure of most public housing developments, thus allowing private investment and ownership. Residents are once again left out of the economic benefits and are not included in the wealth that this program offers private (mostly white) developers. While residents have the opportunity to purchase public housing according to 42 U.S. Code 1437 Demolition and Disposition of public housing, PHA's are able to waive residents' rights if the units will remain affordable dwellings. Not only are residents not educated on their full rights, but they are often tricked out of the negotiating process with developers. Residents can and should negotiate their rights as equity partners to the deal.
Relocation, Homeownership & Income Discrimination
PHA's under-going RAD conversions typically apply to HUD for portability or transfer vouchers which at least 30% of families will opt-in to receive. However, with very little assistance from the PHA, families are left to navigate the cold real estate waters that surround section 8 vouchers. HUD's Fair Housing division is tasked with providing oversight to fair housing discrimination and has the power and authority to make income discrimination a protected class. Residents are forced to move from one low-income neighborhood to another, one with just as many poor-performing schools and limited access to wealth-building opportunities. HUD-assisted families remain a huge part of the real estate renters market thus keeping them from accumulating and leveraging home equity which was responsible for building more than half of the nation's wealth. Housing Choice Voucher (Section 8 ) program participants are allowed to purchase homes utilizing their vouchers. However, it is a practice that many banks and private lenders do not engage in and a right to residents that HUD does not protect and or promote.
---
OUR PARTNER:
STREETWYZE
---
SPONSORED AD:
Flip My Voucher (FMV)
Learn how to go from Renter to Homeowner utilizing the Section 8 Voucher